Visual Architecting Process™ Action Guides
- Init/Commit
- Meta-architecture
- Conceptual Architecture
- Logical Architecture
- Execution Architecture
- Architecture Deployment

Meta-Architecture Paper in .pdf format
Conceptual Architecture Paper in .pdf format
Architecture Training
What it Takes to be a Great Architect Class
- Chicago, IL, April 24-26, 2007
- Palo Alto, CA, March 13-16, 2007
- Chicago, IL, May 22-25, 2007
Enterprise Architecture Workshop
- Palo Alto, CA March 5-8, 2007
- Chicago, IL, May 15-18, 2007

Architecture Consulting
The Visual Architecting Process™:
Meta-Architecture
by Ruth Malan and Dana Bredemeyer, Bredemeyer Consulting, January 2006
Meta-Architecture Process Overview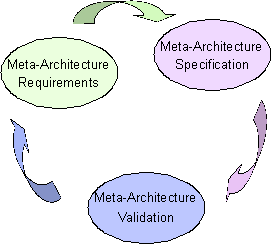 Click on the phases to explore Meta-Architecture Requirements, Meta-Architecture Specification, and Meta-Architecture Validation.
Meta-Architecture Requirements
Whose concerns matter?
What are their concerns and goals?
Meta-Architecture Specification
What views are needed to address the concerns or goals?
What approach are we using to address them?
Meta-Architecture Validation
Did we understand the concerns/goals?
Did we address them?
Software Architecture Action Guide Book
Invitation to Participate
We invite you to contribute templates and models that you find useful in creating architecture strategy or any other facets of Meta-Architecture. If your contribution is selected for publication in the book, or on this web site, your name will appear in the acknowledgments.
Join Mailing List
Join our mailing list if you wish to receive notice of changes to the web site, new chapters and Action Guides as they are added to the site, and architecture workshops and other events.
Restrictions on Use
All material that is copyrighted Bredemeyer Consulting and published on this page and other pages of our site, may be downloaded and printed for personal use. I'm sorry we have to say this, but astounding as it will seem to most readers, we have come across authors who unabashedly use our work without giving recognition to the source. If you wish to quote or paraphrase fragments of our work in another publication or web site, please properly acknowledge us as the source, with appropriate reference to the article or web page used. If you wish to republish any of our work, in any medium, you must get written permission from the lead author. Also, any commercial use must be authorized in writing by Bredemeyer Consulting.